---
---
Liquid Chlorophyll | Genestra (30ml)
💚Chlorophyll is the green pigment of plants that absorbs light energy and aids in photosynthesis' the process of turning light into chemical energy, and plays a key role in plant nourishment. Studies show that chlorophyll can benefit our bodies when taken orally or applied topically.
Some of the conditions that chlorophyll may help treat include:⤵️
Acne blemishes
Redness or itching of the skin
Boils
Skin ulcerations
Skin abrasions
Dental problems (sore gums' dental abscesses' bad breath)
Constipation
Indigestion
Environmental and heavy metal toxicity
As a topical treatment' chlorophyll can aid in skin repair and healing visible wounds.
Features:⤵️
When the GI tract absorbs chlorophyll' it acts as an antioxidant and cellular astringent' which can cleanse your intestines and liver.
When taken orally' it can aid digestion and decrease gastrointestinal problems. Research also indicates that it may stimulate red blood cell and hemoglobin production.
An antioxidant for the maintenance of good health. 
May help reduce body odour from underarm perspiration.
Genestra's Liquid Chlorophyll offers 2.5 mg per drop.
Vegan friendly.
You can also add chlorophyll to your diet by eating dark green leafy vegetables such as spinach' broccoli' and swiss chard. If you don't eat enough of these foods' however' you can use a convenient supplement like Seroyal's Liquid Chlorophyll.
Directions:  
Adult Dose

: Take 34 drops three times daily, twenty minutes before each meal, or as recommended by your healthcare practitioner.
Add to 250ml of water or juice and stir. 
If odour is not controlled, gradually increase the dose from 34 drops three times a day.
Do not exceed 40 drops three times a day. 
Risk Information: Consult your healthcare practitioner prior to use if you are pregnant or breastfeeding. Consult your healthcare practitioner if symptoms persist. Reduce the dosage if cramps or diarrhoea occurs. May cause urine discolouration. 
Safety sealed for your production and for product freshness. Do not use if safety seal is broken or missing. Store in a cool, dry place.
Ingredients: Each drop (0.025 ml) Contains: Chlorophyll (sodium copper chlorophyll).....1.9mg.
Non-Medicinal Ingredients: Glycerine, purified water, sodium chloride. 
Guaranteed to contain no added wheat, starch, yeast, gluten, soy, sugar, artificial colouring or flavouring, dairy or animal products. Ideal for vegans.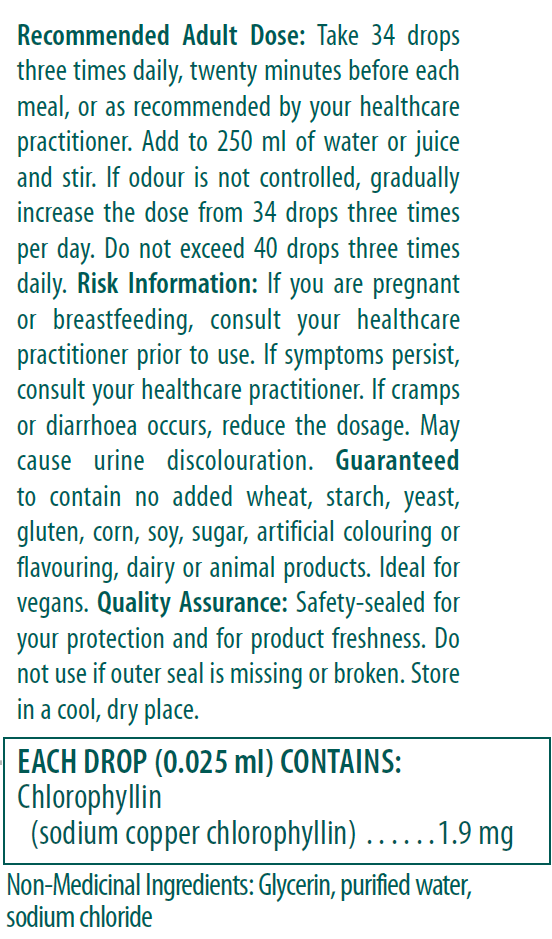 THIS PRODUCT DOES NOT SHIP OUTSIDE CANADA
The statements throughout this site are not intended to diagnose, treat, cure or prevent any disease. Individual results may vary. Seek the advice of a competent health care professional for your specific health concerns. If you have a medical condition or are pregnant please consult your primary health care provider before use.
---