---
---
Cod Liver Oil DHA/EPA Forte Liquid | Genestra (300ml)
Cod Liver Oil DHA/EPA Forte liquid is a convenient way to get essential omega-3 fatty acids. Omega-3s are essential fatty acids that may promote brain and heart health. DHA (docosahexaenoic acid) might provide some support for cognitive function and memory. At the same time' EPA (eicosapentaenoic acid) may work to alleviate certain symptoms associated with mild inflammation or menstrual pain. Both types of fish oil may help maintain a healthy cardiovascular system.
Features:
Cod Liver Oil Forte Liquid supports the maintenance of cognitive function and healthy bones, teeth, eyesight and skin.
Supports healthy bone growth, and helps support the development of the brain and nerves in children up to 12 years of age.
Provides 932 mg of DHA and 754 mg of EPA per daily dose. EPA may work to alleviate certain symptoms associated with inflammation or menstrual cramps. On the other hand' DHA potentially helps maintain cognitive function and memory.
Also includes 5334 IU of vitamin A and 600 IU of vitamin D per daily dose. 
In order to suit the picky palates of children (and some adults)' this cod liver oil supplement is formulated with natural lemon flavour and essential oil of orange to mask the fishy taste and odour. Finally' Seroyal's Cod Liver Oil Forte has been tested for purity.

This product can

not

be shipped outside of Canada.
Directions:
Adults and Adolescents (of 13 years): Take one teaspoon two times daily with meals or recommended by your healthcare practitioner.
Children (4-13 years): Take one teaspoon daily with a meal or as recommended by your healthcare practitioner.
Infants and Children (2 months-3 years): Take 1/2 teaspoon daily with a meal or as recommended by your healthcare practitioner.
Consult your healthcare practitioner if necessary.
Vacuum-sealed for your protection and for product freshness. Do not use if outer seal is missing or broken. 
Refrigerate after opening. 
Like extra virgin oiive oil, Cod Liver Oil Forte may occasionally become cloudy in cold conditions. This is perfectly normal and in no way affects the quality of the oil. 
Keep out of reach of children.
Ingredients: Each Teaspoon (5 ml) Contains: Cod Liver Oil 4440 mg Yielding* Vitamin A (vitamin A palmitate) 800 mcg / 2667 IU
Vitamin D (cholecalciferol) 7.5 mcg / 300 IU
DHA (Docosahexaenoic Acid) 532 mg
EPA (Eicosapentaenoic Acid) 355 mg
Total Omega-3 Fatty Acids 976 mg
Naturally Flavoured with Essential Oils of Orange and Lemon

Non-Medicinal Ingredients: Natural lemon and sweet organe oils' alpha tocopherol and natural mixed tocopherols' sunflower oil' citric acid' soy.Guaranteed to contain no added wheat' starch' yeast' gluten' corn' salt' sugar' dairy, artificial colouring or flavouring' preservatives or dairy products.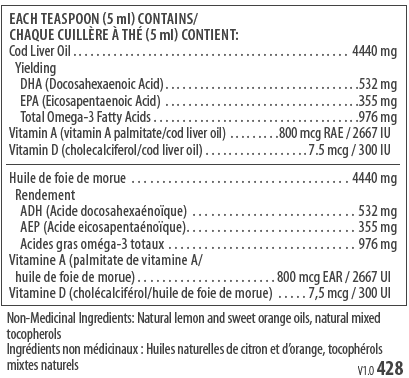 THIS PRODUCT DOES NOT SHIP OUTSIDE OF CANADA
These statements have not been evaluated by the Food and Drug Administration (FDA). These products are not meant to diagnose' treat or cure any disease or medical condition. Please consult your doctor before starting any exercise or nutritional supplement program or before using these or any product during pregnancy or if you have a serious medical condition.
---