---
---
Black Currant Bud Liquid | Genestra (15ml)
Black Currant Bud is a herbal Phyto-Gen formula with black current bud extract. These herbal extracts help the body to safely detoxify on all levels.✅
May be used in combination with UNDA remedies. 
Features: 
Phytoembryotherapy is a branch of phytotherapy that specifically incorporates plant embryological tissues (buds, young shoots, etc.).
These embryonic tissues are rich in beneficial phyto-chemicals and nutrients including: growth factors and plant hormones, enzymes, nucleic acids, oligoelements, and phytonutrients such as polyphenols and flavonoids.
These embryological tissues are utilized because their energetic components are at their highest levels when they are harvested in the spring - the most active phase of the growth cycle.
Directions: 
Adults and Children over 12 years: Take 10 drops once daily under the tongue, or as recommended by your healthcare practitioner. 
Invert bottle to 45 degrees and shake lightly allowing drops to fall directly into mouth or in 7ml (1/4oz.) of water.
Risk Information: If you are pregnant or breastfeeding, do not use, unless directed by your healthcare practitioner. If symptoms persist or worsen, consult your healthcare practitioner. 
Always read and follow the label. Consult your healthcare practitioner if necessary. 
Safety-sealed for your protection and for product freshness. Do not use if inner seal is missing or broken.
Store in a cool, dry place. 
Ingredients and Serving Size:
10 Drops (0.28 ml)
Servings Per Container: About 53. Amount Per Serving / % DV
Black Currant Ribes nigrum Bud Extract (1:20) 0.28 ml / *
14 mg Dried Equivalent
*Daily Value not established.

Non-Medicinal Ingredients: Purified water' ethanol (grain)' glycerin. 
Guaranteed to contain no added wheat, starch, yeast, gluten, corn, soy, sodium, sugar, artificial coloring or flavouring, antimicrobial preservatives, dairy or animal products. Ideal for vegans.
THIS PRODUCT DOES NOT SHIP OUTSIDE OF CANADA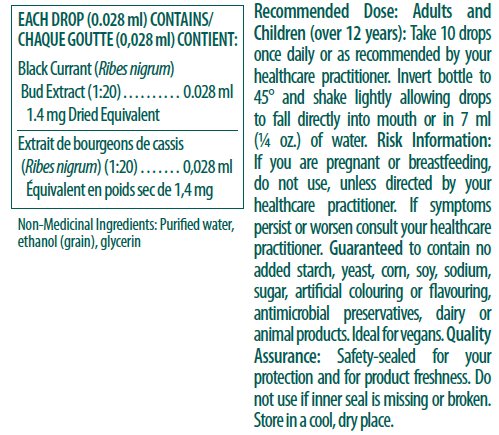 THIS PRODUCT DOES NOT SHIP OUTSIDE OF CANADA
The statements throughout this site are not intended to diagnose, treat, cure or prevent any disease. Individual results may vary. Seek the advice of a competent health care professional for your specific health concerns. If you have a medical condition or are pregnant please consult your primary health care provider before use.
---